Cactus and Succulent Society of New Mexico


Cactus & Succulent Society of New Mexico is an affiliate of the Cactus and Succulent Society of America.

Meeting Info: Albuquerque Garden Center, 10120 Lomas Blvd NE, Albuquerque, NM, 3rd Friday, 7:00 pm.

President: Carl Hime, 505-275-6777
Webmaster: Ralph R. Peters, 505-293-6356

To contact the CSSNM via email, please use this address: CSSofNM@gmail.com





Echinocereus "Maria Piazza" flowering in June
(click for big image)
Upcoming Events
July 2018 - No meeting, have a great summer!

Friday, August 17, 2018 - Meeting, speaker TBD

Saturday - Monday, September 1-3, 2018 - Cactus & Succulent Show, Demonstrations, and Presentations at the Albuquerque Botanic Garden. This link has more information about the show and the Albuquerque Botanic Garden. Please sign up as a docent for the show! A signup sheet will be available soon. This flyer may be used for advertising the show.
Several galleries show some pictures of the 2017 show taken by members and some of the 2000 visitors who attended.


Friday, October 19, 2018 - Jim Hastings, the Gringo Gourmet from El Paso will talk and prepare a dish using Opuntias




Friday, November 16, 2018 - Meeting, speaker TBD




Saturday, December 8, 2018 - Holiday Party




Information about plants
Plant information may be found here. Checkout the new article on potting soils which lists recipes from several members.

Landscaping Southwest is a program that investigates water-wise landscaping and gardening. This video looks at the La Mesa Community Garden in the first half and Ralph Peters' xeric yard and his cactus & succulent collection in the second half. It shows cacti, succulents, and other native plants (ocotillos, penstemons,...) used in landscaping and discusses their cultivation.

Field Trips to Mesa Garden


On October 8, 2013, we went on a field trip to Mesa Garden to see all the mesembs in flower

;

see the picture gallery.
On March 22, 2014, we went on a field trip to Mesa Garden to see cacti and some mesembs in flower; see the picture gallery.
We also had a great potluck dinner after spending time in the greenhouses. Steven and Linda Brack were great hosts -- Thank you!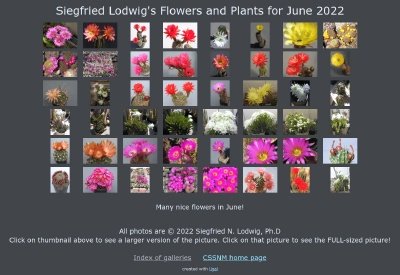 Checkout picture galleries of flowering cacti and succulents and seedlings courtesy of Siegfried Lodwig. A new gallery is up for February 2018 - May 2018 with 72 photos! Many kinds of cacti and succulents flower in the Spring!

Useful links for information on the web may be found here.

Club Information


Club information including a membership application, new member information, newsletters, current officers, a library list, show information, show tags, show posters and vendor information may be found

here

.


What does the society do? Get an idea from a list of recent events

.